The 2024 Bennetts British Superbike Champion will be crowned following an end of season triple-header at Brands Hatch, where the points-per-race value increases again - the stakes will be high!
The 2023 final round was an all-time classic, with just half a point separating champion Tommy Bridewell and runner-up Glenn Irwin. Star riders hoping to be crowned at the Kent circuit next year include Kyle Ryde, Ryan Vickers, Jason O'Halloran, Josh Brookes and Peter Hickman.
Three Bennetts BSB races will top the bill with a Saturday sprint followed by two feature races on Sunday. There will be a full support programme too as a range of national two-wheeled champions are crowned too.
ADMISSION PRICES FROZEN AT 2023 LEVELS UNTIL CHRISTMAS!
TICKETS WILL BE POSTED IN A PRESENTATION WALLET AND MAKE PERFECT PRESENTS. ALTERNATIVELY, CHOOSE INSTANT E-TICKETS
Bennetts British Superbike Championship
Friday 11 - Sunday 13 October 2024
Book Tickets
00
Days
00
Hours
00
Mins
00
Secs
Weekend Admission
(Friday - Sunday)
BSB Practice
Qualifying
Support Classes
3 Headline BSB races
PRICES FROZEN UNTIL CHRISTMAS
Adult
£45.00 Online (Gate £72.00) Save 37%
£27.00 Online (Gate £43.00) Save 37%
Senior Citizen
Ages 65 and above
Friday Admission
BSB Practice
Support Class Practice
Selected support Class Qualifying
PRICES FROZEN UNTIL CHRISTMAS
Adult
£15.00 Online (Gate £18.00) Save 16%
Teen
£10.00 Online (Gate £12.00) Save 16%
Senior Citizen
Ages 65 and above
Saturday Admission
BSB Practice
Qualifying
BSB Sprint Race
Plus Support Classes
PRICES FROZEN UNTIL CHRISTMAS
Adult
£24.00 Online (Gate £29.00) Save 17%
£15.00 Online (Gate £18.00) Save 16%
Senior Citizen
Ages 65 and above
Sunday Admission
Main Raceday
2 Headline BSB Races
Plus Support Class Racing
PRICES FROZEN UNTIL CHRISTMAS
Adult
£34.00 Online (Gate £39.00) Save 12%
£20.00 Online (Gate £23.00) Save 13%
Senior Citizen
Ages 65 and above
PLEASE NOTE: Advance booking ends 16:00 Wednesday 09 October. If you do not select e-tickets, your order will be sent by Recorded Delivery (£3.49 per booking) or Special Delivery (£8.99 per booking) if specified. All posted orders received after 14:00 Tuesday 08 October will be sent by Special Delivery. Telephone bookings are subject to a surcharge of £1 per admission ticket. E-tickets can be accessed from your MSV online account. Under 18s must be accompanied by an Adult.
Programme
Save money and order your souvenir race programme in advance. Simply claim it on the day from one of our selected programme booths or circuit shops.
£6.00 Online (Gate £8.00) Save 25%
Brands Shuttle Bus Ticket
Order a return ticket online for this new service. Operates every 30 minutes between 8am and 8pm (Sunday only) between the circuit and Swanley train station. More Info.
£5.00 Online (Gate £5.00)
Southbank Parking
All general parking outside the venue is free of charge. Infield parking on Southbank (opposite the rear of the garages) is £5 per car on Saturday and £10 per car on Sunday, subject to availability. You will need to download a pass in advance by clicking here. Please note that motorcycles are not permitted.
Upgrade to the best view in the house! All four grandstands will be open on Sunday, whilst Paddock Hill (only) will be open on Saturday.
Grandstand Information
Book Tickets
£15.00
Paddock Hill Saturday
Watch all the qualifying and BSB Sprint Race action from one of the most iconic views in world motorsport, as the field charges down the start/finish straight before plunging down the steep Paddock Hill Bend.
£25.00 to £30.00
Paddock Hill Sunday
Paddock Hill grandstand provides an ideal location to watch the start line action, as the field jostle for position heading into the first corner. The sweeping curves of Paddock Hill and Druids Hairpin are key places for breath-taking manoeuvres and dramatic incidents!
£20.00
Pit Straight Sunday
This grandstand offers a prime position to soak up the pre-race atmosphere and podium ceremonies as well as the racing action itself. You will also have a bird's eye view of any pit lane drama during the weekend.
£18.00
Hailwoods Sunday
This grandstand provides superb views of Paddock Hill Bend, and the run up Hailwoods Hill to Druids - a key overtaking point. You'll also see the pack filter down into Graham Hill Bend. This stand benefits from having a big TV screen directly opposite.
£12.00
Desire Wilson Sunday
Desire Wilson grandstand brings you tantalisingly close to the start line drama, as it offers fantastic views down the start/finish straight and into Paddock Hill Bend.
£30.00
Desire Wilson Covered Sunday
These seats benefit from the shelter of the Brabham Stewart Hospitality building and offer some protection against the elements.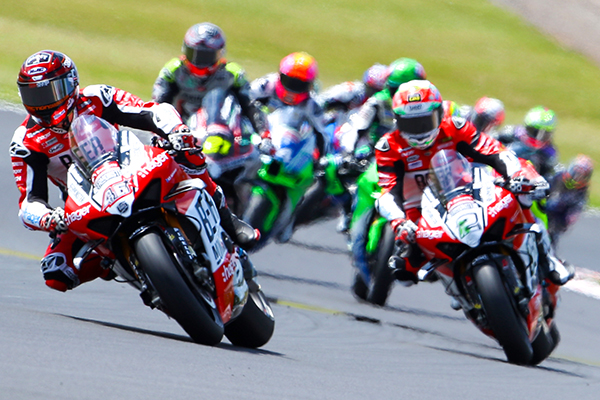 Bennetts British Superbikes
Bennetts BSB is regarded as the world's leading domestic bike championship. The machines can reach 200mph and are piloted by some of the best riders on the planet, whilst the racing is fierce and frenetic, attracting a huge following in the UK and beyond.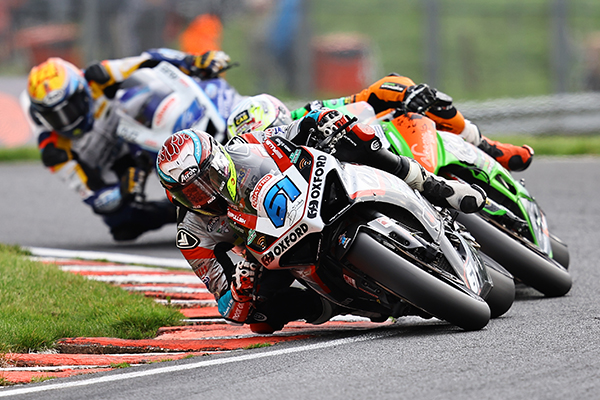 Quattro British Supersport
With a selection of leading manufacturers and riders assembled on the grid, the BSB's leading support category is a top class series in its own right.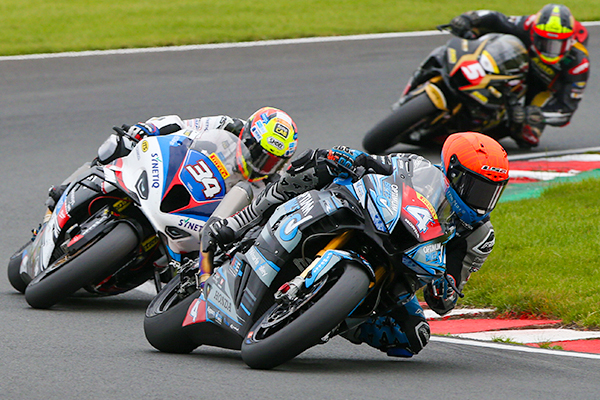 Pirelli National Superstock
The Pirelli National Superstock 1000 is a series fast developing a reputation for producing top class talent. Many past competitors have graduated to BSB level, so the current crop will be keen to emulate their performances!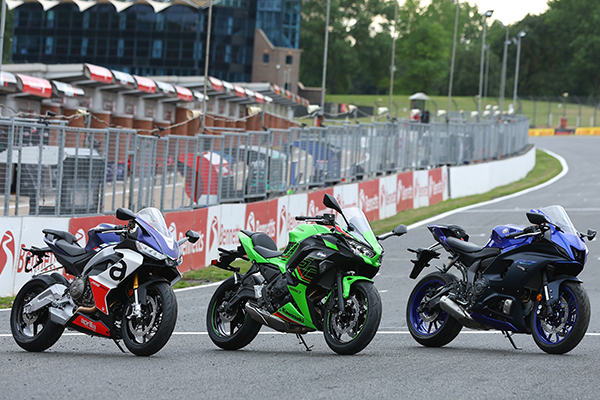 Pirelli National Sportbike
New for the 2024 season, eligible machines include the Yamaha R7, Aprilia RS660, Kawasaki Ninja 650, Honda Hornet 750 as well as others believed to be entering the sector. Machines will run on Mektronic ECU platform with BoP formula to manage model parity and slick tyres.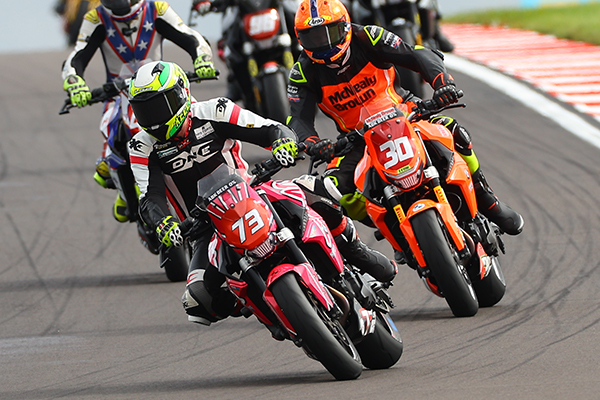 BMW Motorrad F900 R Cup
Running alongside the BSB programme, the BMW Motorrad F 900 R Cup has been devised to be accessible for aspiring as well as experienced riders, with four races across the weekend.
Free Parking
All general parking outside the venue is free of charge. Infield parking on Southbank (opposite the rear of the garages) is £5 per car on Saturday and £10 per car on Sunday, subject to availability. You will need to download a pass in advance by clicking here. Please note that motorcycles are not permitted on Southbank.
Trade Stands
A trade area will be in operation all weekend, with dealers and manufacturers represented, plus championship partners and stalls selling parts, accessories and rider and team merchandise.
Free Pit Walk and Autograph Session
Meet all your favourite riders during the official pit walk, which will commence some time around 9am on Sunday morning.
Championship Presentation
Fans can access the track to watch the championship presentations at the end of the event via the gate at Paddock Hill Bend. Please do not attempt to access the circuit until instructed to do so by circuit staff.
Giant TV Screens
There will be big screens on Southbank on Saturday and Sunday, allowing spectators to follow all of the action from a viewing position in the main spectator area, plus one opposite Hailwoods Grandstand on the Sunday only.
Helmet and Leather Park
There will be two helmet and leather parks located adjacent to the main entrance gate and at the H-gate entrance. These are operated by our local Rotary Club, with all proceeds donated to local causes.
BSB Radio presented by Kawasaki K Options 88.3FM
BSB Radio will be broadcasting live commentary, interviews and spectator information throughout the weekend.
Live music
There will be live music in the Kentagon restaurant on the Saturday night – so there will be plenty to enjoy for those of you camping or remaining on site into the evening.
Go Karting
You can also test your mettle with go-karting on a mini version of the Brands Hatch Indy circuit, located opposite the Megastore. £20 for ten minutes, open to those aged 8+, payable at the circuit.
Adventure Playground
Check out the Brands Hatch adventure playground near the Kentagon restaurant, which has equipment for children of all ages from toddler to 14.
Whether you're entertaining clients or celebrating a special occasion with family and friends, a hospitality package offers an exhilarating day out in fabulous surroundings. For booking enquiries contact 01474 875224 or [email protected].
Platinum Hospitality
Our premium package based in the MSV Centre, which offers sensational views over the Indy circuit with an elevated vantage point to watch the action unfold. With every detail attended to, your guests have the option to view from either the suite or the jaw-dropping rooftop balcony. Please note all bookings are subject to a postal fee.
Prices are £250.00 plus VAT per person.
Gold Hospitality
Our Gold Package is offered in the Brabham/Stewart suites, superbly positioned alongside the start/finish straight at Brands Hatch. The elevated position, coupled with the natural amphitheatre of Brands Hatch, offers one of the best views in world motorsport. Please note all bookings are subject to a booking fee, and the Gold Package requires a minimum booking of 20 guests.
Prices are £230.00 plus VAT per person.
We also have Trackside Lounge and Directors' Terrace viewing upgrades available this weekend.
£95.00 to £129.00
Directors` Terrace
Sample some of the best views in style, as you enjoy the action from above the crowds on the exclusive Directors' Terrace on the start/finish straight. Includes access to an adjoining indoor café. Please note: the price does not include venue admission.
£183.00
Trackside Lounge Full Package
Includes venue admission and shared access to a Brabham/Stewart suite overlooking the race circuit plus a TV with commentary and live timing. A cold buffet lunch and souvenir race programme is included. An upgrade option is also available.
Book Tickets
Why not make a weekend of it and stay on-site at Brands Hatch? We have a dedicated camping area with full facilities - just a short stroll from the racetrack. The price enables you to stay for up to four nights.
Please note you will need to be in possession of a valid weekend admission ticket/pass in addition to a camping ticket in order to gain access to the campsite.

IMPORTANT: ELECTRICAL HOOK-UP IS NOT AVAILABLE ANYWHERE ON THE CAMPSITE.

Adult
£35.00 Online (Gate £40.00) Save 12%
£21.00 Online (Gate £25.00) Save 16%
Adult
£35.00 Online (Gate £40.00) Save 12%
£21.00 Online (Gate £25.00) Save 16%
Book Tickets