Brands Hatch will end another busy season of major events with a 'bang' when Truck Racing and Fireworks returns with a main race day on Sunday 3 November 2023. Sparks will fly with headline races from the British Truck Racing Championship (BTRC), ahead of one of the South East's best fireworks displays.
The fireworks display (on Sunday only) will be accompanied by a twilight convoy of show trucks in a spectacle unique to Brands Hatch's Bonfire Night celebrations. This day is very likely to sell out in advance, so it's essential to book in advance if you wish to attend*.
In addition to five BTRC races across the weekend, there will be a full support race programme featuring a wide range of machinery.
PLEASE NOTE: PUBLIC CAR PARKING IS FREE OF CHARGE. A VERY LIMITED NUMBER OF PARKING PLACES FOR SOUTHBANK (INTERNAL PARKING) WILL GO ON SALE AT A LATER DATE.
* Pre-registration is not required for valid Season and Resident Pass holders.
ADMISSION PRICES FROZEN AT 2023 LEVELS UNTIL CHRISTMAS!
TICKETS WILL BE POSTED IN A PRESENTATION WALLET AND MAKE PERFECT PRESENTS. ALTERNATIVELY, CHOOSE INSTANT FREE E-TICKETS
British Truck Racing and Fireworks
Saturday 02 - Sunday 03 November 2024
Book Tickets
00
Days
00
Hours
00
Mins
00
Secs
Weekend Admission
(Saturday - Sunday)
Qualifying
Truck Racing
Support Classes
Fireworks Display (Sunday Only)
PRICES FROZEN UNTIL CHRISTMAS
Saturday Admission
Qualifying Sessions
Truck Racing
Support Classes
No Fireworks
PRICES FROZEN UNTIL CHRISTMAS
Adult
£20.00 Online (Gate £25.00) Save 20%
£13.00 Online (Gate £15.00) Save 13%
Senior Citizen
Ages 65 and above
Sunday Admission
Truck Racing
Support Classes
Showtruck Parade
Firework Display
PRICES FROZEN UNTIL CHRISTMAS
Senior Citizen
Ages 65 and above
PLEASE NOTE: Advance booking ends 16:00 Thursday 31 October. If you do not select e-tickets, your order will be sent by Recorded Delivery (£3.49 per booking) or Special Delivery (£8.99 per booking) if specified. All posted orders received after 14:00 Wednesday 30 October will be sent by Special Delivery. Telephone bookings are subject to a surcharge of £1 per admission ticket. E-tickets can be accessed from your MSV online account. Under 18s must be accompanied by an Adult.
Brands Shuttle Bus Ticket
Order a return ticket online for this new service. Operates every 30 minutes between 8am and 8pm (Sunday only) between the circuit and Swanley train station. More Info.
£5.00 Online (Gate £5.00)
Programme
Save money and order your souvenir race programme in advance. Simply claim it on the day from one of our selected programme booths or circuit shops.
£6.00 Online (Gate £8.00) Save 25%
Upgrade to the best view in the house! All four grandstands will be open on Sunday, whilst Paddock Hill (only) will be open on Saturday.
Grandstand Information
Book Tickets
£10.00
Paddock Hill Saturday
Watch all the qualifying and support race action from one of the most iconic views in world motorsport, as the cars charge down the start/finish straight before plunging down the steep Paddock Hill Bend.
£20.00 to £25.00
Paddock Hill Sunday
Paddock Hill grandstand provides superb views through one of Brands Hatch's most iconic bends, as the field jostle for position heading into the first corner. You will also be in prime position to witness our spectacular fireworks display that takes place after the racing along with the Truck Parade.
£15.00
Pit Straight Sunday
The Pit Straight grandstand is a prime position to soak up the pre-race atmosphere as well as the racing action. Directly facing the starting grid, you will feel the tension rise as competitors prepare for the lights to go out. You will also have a fantastic view of our spectacular fireworks display along with the Truck Parade.
£10.00
Desire Wilson Sunday
Desire Wilson grandstand brings you tantalisingly close to the start line drama, as it offers fantastic views down the start/finish straight and into Paddock Hill Bend.
£25.00
Desire Wilson Covered Sunday
These seats benefit from the shelter of the Brabham Stewart Hospitality building and offer some protection against the elements.
£12.00
Hailwoods Sunday
Hailwoods grandstand provides superb views of Paddock Hill Bend, and the run up Hailwoods Hill to Druids - one of the key overtaking points on the circuit. You will also enjoy a great view of the fantastic fireworks display that follows the racing. This stand is located next to Hailwoods Restaurant, right by the support race paddock.
British Truck Racing Championship
Five-tonne racing trucks, capable of accelerating to 100 mph as rapidly as a Porsche 911, will be taking part in five heavy-metal races across the weekend.
Junior Saloon Car Championship
Bridging the gap between karting and cars, the Junior Saloon Car Championship offers aspiring racers aged between the ages of 14 to 17 with the opportunity to get behind the wheel and compete at some of the best venues around in the UK.
Pickup Truck Racing Championship
With unique tubular spaceframe chassis' that are coupled with two-litre multi-valve twin-cam engines making up the grid, the action is fast and frenetic.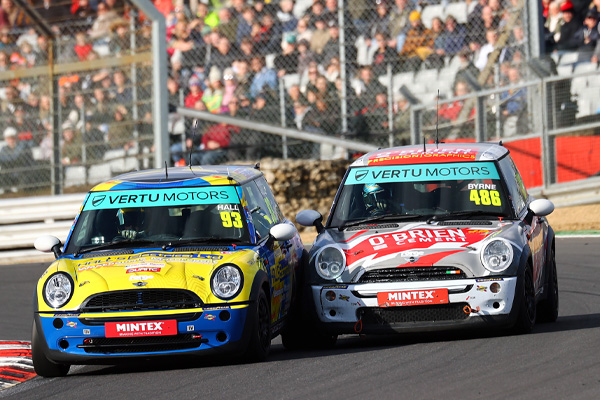 MINI Challenge - Coopers
The entry level Cooper Class car uses a 130bhp 1.6-litre normally aspirated engine, six-speed manual gearbox and Goodyear slick and wet tyres, limited to two new tyres per race meeting.
Mini Se7ens
Since the first Formula Mini Se7en race at Brands Hatch in 1966, the Mini 7 Racing Club has always been a favourite for race commentators and spectators alike. Under the bonnet the cars each have a highly-tuned 998cc A-Series engine developing over 100bhp.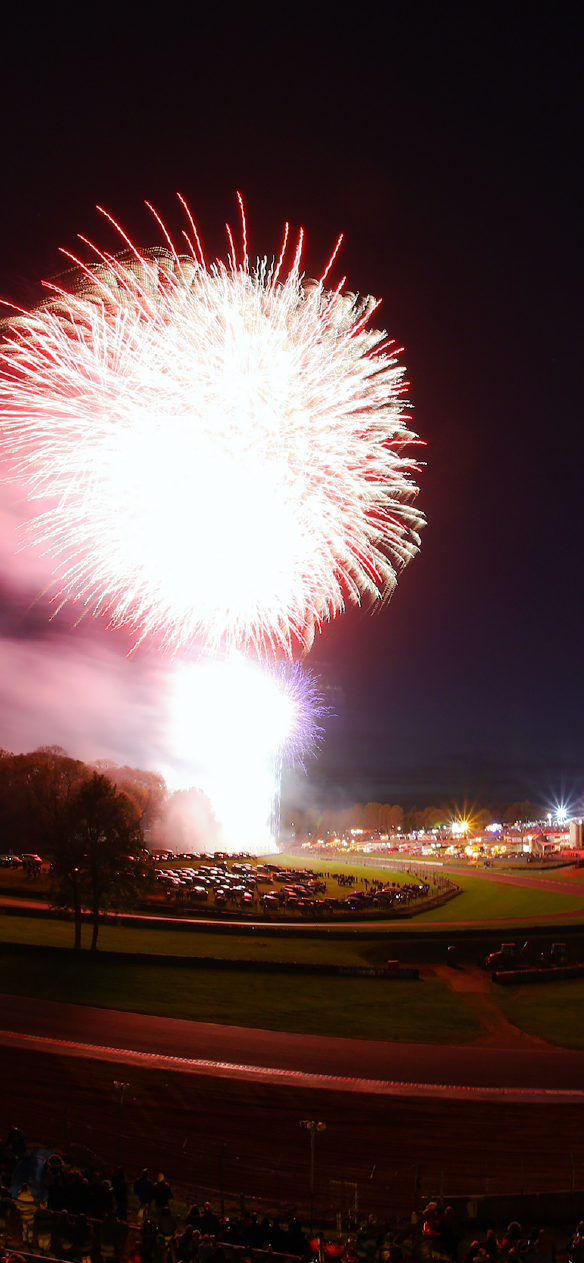 Fireworks - Sunday
There will be a spectacular 'big bang' fireworks display after racing on the Sunday. Depending on levels of light, it will commence at some point after 5.15pm. The fireworks will launch from Southbank - the elevated area opposite the pit straight grandstand, whilst the track is still filled with glittering showtrucks!
Show Trucks Display - Both Days
Pristine show trucks will be lined up throughout the venue. Expect to see beautiful trucks of varying types, sizes and eras on display, with them all taking to the circuit on Sunday evening for a fantastic light show parade prior to the firework display. Applications for the truck display will open soon.
Truck Parade - Sunday
The action on track doesn't finish at the end of racing at Trucks and Fireworks! See display vehicles in all their glory as they take to the Brands Hatch Indy circuit for an impressive parade just before the fireworks launch!
Free Parking
All general parking outside the venue is free of charge. A very limited number of places for Infield parking on Southbank will be made available at a later date.
Trade Stands
A trade area will be in operation all weekend, with stalls selling parts, accessories and driver and team merchandise.
Adventure Playground
Check out the Brands Hatch adventure playground near the Kentagon restaurant, which has equipment for children of all ages from toddler to 14.
Go Karting - Sunday Only
You can also test your mettle with go-karting on a mini version of the Brands Hatch Indy circuit, located opposite the Megastore. £20 for ten minutes, open to those aged 8+, payable at the circuit.
Paid Funfair
The Brands Hatch Fun Zone will offer a fairground with an an assortment of exciting rides. Individual charges apply.
Whether you're entertaining clients or celebrating a special occasion with family and friends, a hospitality package offers an exhilarating day out in fabulous surroundings. For booking enquiries contact 01474 875224 or [email protected].
Hospitality Information
Silver Hospitality
SUNDAY ONLY. Includes privileged parking and entrance to the circuit and a suite in the MotorSport Vision Centre. Each guest will receive a race programme and morning coffee and a full breakfast on arrival, followed by a two course lunch and a traditional afternoon tea and cakes. A pay bar is in operation within the suite.
Prices are £135.00 plus VAT per person.
Gold Hospitality
SUNDAY ONLY. Hospitality Includes: privileged parking, entrance tickets into circuit and suite, official programme, coffee and breakfast roll, two course lunch, afternoon tea and cakes, complimentary bar serving wines, beers and soft drinks. Please note Gold Hospitality requires a minimum booking of 20 guests.
Prices are £145.00 plus VAT per person.
We also have Directors' Terrace viewing upgrade available this weekend.
£99.00
Directors` Terrace
Sample some of the best views in style, as you enjoy the action from above the crowds on the exclusive Directors' Terrace on the start/finish straight. Includes access to an adjoining indoor café. Please note: the price does not include venue admission.
Book Tickets
Why not make a weekend of it and stay on-site at Brands Hatch? We have a dedicated camping area with full facilities - just a short stroll from the racetrack.
Please note you will need to be in possession of a valid weekend admission ticket/pass in addition to a camping ticket in order to gain access to the campsite.

IMPORTANT: ELECTRICAL HOOK-UP IS NOT AVAILABLE ANYWHERE ON THE CAMPSITE.

Adult
£32.00 Online (Gate £38.00) Save 15%
£19.00 Online (Gate £23.00) Save 17%
Book Tickets