Brands Hatch will put Great Britain front and centre this Coronation year at the all-new Brands Britannia event!
The British motoring industry will be the centrepiece at this dedicated summer show. On and off-track activities will take hold of the Kent circuit to celebrate the country's best automotive achievements.
On-track, the "Great British race-off" will feature retro action from the Classic Sports Car Club (CSCC). Race series including the Swinging '60s, Future Classics, Modern Classics and Special Saloons and Modsports will compete throughout the day, with grids of classic cars from as far back as the 1950s. The Morgan Challenge will also be making a guest appearance.
There will be fun for the whole family off-track too including a mega car display featuring vehicles from the best-loved UK manufacturers. Everything from Lotus to Land Rovers and TVRs to Triumphs will be on show.
Applications to join the show and display your vehicle are now open. PLEASE CLICK HERE.
Tickets will be available on the gate
Brands Britannia
Sunday 04 June 2023
00
Days
00
Hours
00
Mins
00
Secs
Senior Citizen
Ages 65 and above
PLEASE NOTE: Advance booking closed at 12:00 Thursday 01 June. If you haven't received your ticket(s) please contact us. Children under 18 must be accompanied by an Adult.
Programme
Save money and order your souvenir race programme in advance. Simply claim it on the day from one of our selected programme booths or circuit shops.
Radio
Order your radio earpiece in advance and collect it at the circuit from one of our selected programme booths or circuit shops - click here for more information.
Southbank Parking
If you wish to park within the Infield area or on the Southbank (the large grassed area opposite Cooper Straight) the charge is £5 per car on Sunday. Subject to availability. You will need to download a pass in advance by clicking here. Please note that motorcycles are not permitted.
Upgrade to the best view in the house!
Paddock Hill Sunday
Watch all the racing and support race action from one of the most iconic views in world motorsport, as the cars charge down the start/finish straight before plunging down the steep Paddock Hill Bend.
Special Saloons & Modsports
The JMC Racing Special Saloons and Modsports are often a crowd favourite, full of unique and wild machines racing on slick tyres. Overall race wins and class wins have come from MG, Davrian, Cobra replica, Triumph and some Ford and Vauxhall models in years past.
Future Classics
Advantage Motorsport Future Classics for 1970s and 1980s models will share the grid this time, with their 60s Group 2 cousins. Scimitar, Aston Martin, Talbot, Triumph and perhaps TVR will do their best to fly the flag, although they'll have to work hard to overcome their German and Japanese competition...
Modern Classics
The CSCC Modern Classics series is for 1990s models, with a strong showing likely from TVR, Jaguar, Lotus and Ginetta. The 40 minute race includes a pit stop that can shake things up midway through.
Morgan Challenge
The Morgan Challenge is a well-established championship for all four-wheeled models of these Malvern-based sportscars. The Morgans have two 20 minute sprint races to enjoy.
Swinging 60s - Group 1
The Adams & Page Swinging 60s series has grown so much over the last 20 years that it is frequently split into two groups. Group 1, for smaller-engined cars, is dominated by British makes and models, including Austin, MG, Turner and Marcos.
Swinging 60s - Group 2
The second grid for Adams & Page Swinging 60s is always popular with MGBs, with front-runners often coming from Lotus, TVR and Reliant too.
Car Clubs
Alongside the 100s of private entries, British car clubs will fill the venue, so expect to see everything from Lotus to Mini, MG to McLaren and everything in between. To apply please CLICK HERE. To see which car clubs have already confirmed, CLICK HERE.
Supercar Display
It's not only the mass production cars that Britain is well known for - Supercars will take centre-stage for a stunning display that will celebrate McLaren, together with other marques.
The Village Green
At the heart of every British village is the green, and the same will apply at Brands Britannia. A paid funfair and lawn games will be present throughout the day.
Display Cars
Brands Hatch will play host to some of the greatest manufacturers of vehicles in the world with a homage to British Marques. 100s of vehicles will be on display for the inaugural celebration of Britain. To apply please CLICK HERE.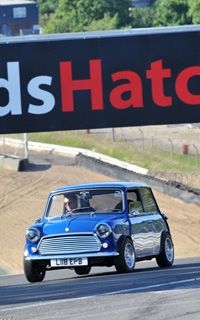 British Track Parade
Once the racing has finished 100s of Britain's finest vehicles will take to the track for a special parade, open to all clubs and individuals displaying vehicles within the venue.
Live Music
From start to finish Brands Britannia will include live music from covers of famous British bands we all know and love.
Supercar Demo Arena
A selection of supercars will be front, centre and live in the arena to drift, smoke and show off to the crowd. Show times will be released closer to the event date.
Sporting Bears
Members of Sporting Bears will be on hand to give visitors passenger rides on public roads surrounding Brands Hatch, in one of their fantastic classic or supercars, in exchange for donations to a charity. It's a great chance to get out and about in a very special car for a very special cause!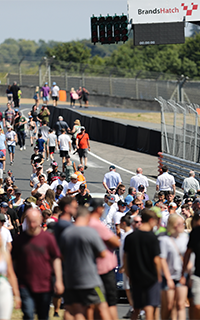 Grid Walk
At lunch, join the grid walk which is open to all spectators, offering a unique opportunity to get out onto the Brands Hatch circuit before the engines start!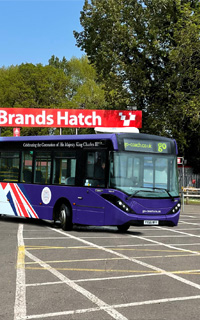 Brands Bus Tours
Why not join us before the racing starts on a free tour around the track in partnership with Go Coaches. Operating from 9.00 – 9.45 due to limited spaces this will run on a first come first serve basis.
Free Parking
All general parking outside the venue is free of charge. Infield parking on Southbank (opposite the rear of the garages) is £5 per car on on Sunday, subject to availability. You will need to download a pass in advance by clicking here. Please note that motorcycles are not permitted on Southbank.
Adventure Playground
Check out the Brands Hatch adventure playground near the Kentagon restaurant, which has equipment for children of all ages from toddler to 14.
Whether you're entertaining clients or celebrating a special occasion with family and friends, a hospitality package offers an exhilarating day out in fabulous surroundings. For booking enquiries contact 01474 875224 or [email protected].
Hospitality Information
Why not make a weekend of it and stay on-site at Brands Hatch? We have a dedicated camping area - just a short stroll from the racetrack.
Ticket holders are welcome to camp free of charge from midday before the first day of the event until midday after the last day of the event, but limited facilities are available.