The annual Brands Hatch Mini Festival returns in August 2023 for another full day of pocket-sized motoring action from the UK's favourite small car! The iconic vehicle will be celebrated both on and off the track.
On the circuit itself, there will be door-to-door racing action from classic Mini Miglias, Dunlop Mini Se7ens, Mighty Minis, Mini Se7en S Class and the popular "Fastest Mini in the World" race. At the end of the day, once the racing is done, hundreds of modern and classic Minis will take to the track for a special Mini parade.
Around the venue there will be big displays of all the best-loved Minis, both old and new, surrounding the legendary Indy circuit, plus an extensive trade area.

To display your Mini at this year's festival, either as an individual or as part of a club, please CLICK HERE.
Tickets will be available on the gate
Mini Festival
Sunday 06 August 2023
00
Days
00
Hours
00
Mins
00
Secs
Senior Citizen
Ages 65 and above
PLEASE NOTE: Advance booking closed at 16:00 Thursday 03 August. If you haven't received your ticket(s) please contact us. Children under 18 must be accompanied by an Adult.
Programme
Save money and order your souvenir race programme in advance. Simply claim it on the day from one of our selected programme booths or circuit shops.
Radio
Order your radio earpiece in advance and collect it at the circuit from one of our selected programme booths or circuit shops - click here for more information.
Upgrade to the best view in the house! Paddock Hill grandstand will be open on Sunday.
Paddock Hill Sunday
Paddock Hill grandstand provides an ideal location to watch the start line action, as the field jostle for position heading into the first corner. The sweeping curves of Paddock Hill and Druids Hairpin are key places for breath-taking manoeuvres and dramatic incidents!
Mini Se7en
A regular of the Mini Festival, Mini Se7en's modified A-Series engines are genuine pocket rockets.
Mini Miglia
Even faster than the Se7ens, the Miglias can reach 125mph! The 1.3-litre, slick-shod machines power from 0-60mph in just 4.5 seconds, that's only 0.2s slower than a Porsche 911 Carrera!
Fastest Mini in the World™
Castrol Classic Oils Fastest Mini in the World™ features a range of classic Minis with a packed grid of highly developed spaceframe minis boasting 200 - 300 bhp.
Super Mighty & Mighty Minis
In 2022, The Super Mighty Minis and Mighty Mini combined to create a gripping classic Mini race and provided some of the most exciting racing of the weekend!
Mini Car Club Displays
Mini clubs once again take centre stage lining the venue with their diverse collections of Minis and MINIs. Applications for Mini Festival 2023 are now open, to register please CLICK HERE.
Trade Stands
Mini Festival isn't just a showcase of vehicles. Browse the latest products and services from top brands in the automotive industry at our trade and exhibitor stands. Find everything you need to enhance your vehicle, from performance upgrades to styling accessories. If you are a company or trader and want to get involved with Mini Festival 2023 please email [email protected]
Grid Walk
At lunch, the grid walk will allow fans to meet with the drivers before the engines start!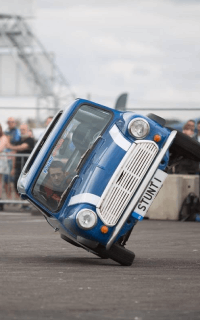 Mini Stunt Show
Join us for an adrenaline-fueled Sunday with two thrilling Mini Stunt Shows. These will take place at 11.30am and 3.10pm.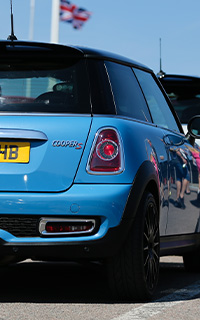 Mini Cooper S Celebration
Whether you're a long-time Mini Cooper S fan or new to the world of this automotive icon, our 60 Years of Mini Cooper S display is an experience for all. Hosted by Swiftune, this display will feature a curation of the iconic Swiftune race and road Cooper S Minis.
Mini Track Parade
Once the racing is done hundreds of Minis will take to the Brands Hatch circuit for a special track parade. The parade is open to Mini clubs and Mini owners who are located within the display areas of the show.
Adventure Playground
Check out the Brands Hatch adventure playground near the Kentagon restaurant, which has equipment for children of all ages from toddler to 14.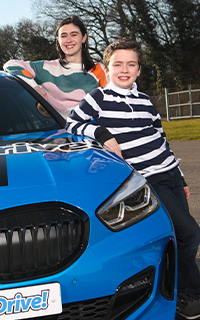 YoungDrive! Taster Sessions
Kids aged 11-17 can get behind the wheel of a brand new, dual-controlled BMW 1 Series for a taster driving lesson on the Grand Prix loop. Sign-on is at the Hailwoods Restaurant. Charges apply.
Go Karting - Sunday Only
You can also test your mettle with go-karting on a mini version of the Brands Hatch Indy circuit, located opposite the Megastore. £20 for ten minutes, open to those aged 8+, payable at the circuit.
Free Parking
All general parking outside the venue is free of charge. Infield parking on Southbank (opposite the rear of the garages) is £5 per car, subject to availability. You will need to download a pass in advance by clicking here. Please note that motorcycles are not permitted on Southbank.
Whether you're entertaining clients or celebrating a special occasion with family and friends, a hospitality package offers an exhilarating day out in fabulous surroundings. For booking enquiries contact 01474 875224 or [email protected].
Hospitality Information
We also have SuperView and Directors' Terrace viewing upgrades available this weekend.
£55.00
Directors` Terrace
Sample some of the best views in style, as you enjoy the action from above the crowds on the exclusive Directors' Terrace on the start/finish straight. Includes access to an adjoining indoor café. Please note: the price does not include venue admission.
Why not make a weekend of it and stay on-site at Brands Hatch? We have a dedicated camping area - just a short stroll from the racetrack.
Ticket holders are welcome to camp free of charge from midday before the first day of the event until midday after the last day of the event, but limited facilities are available.